News
Fatal accident southeast of Beatrice claims life of 17-year-old
Car traveling at high rate of speed when it left the roadway and rolled
Monday, May 23rd 2022, 9:28 AM CDT
BEATRICE – Emergency personnel responded to a fatal rollover accident Saturday night, southeast of Beatrice. The accident happened at South 36th Road and East Locust Road, a mile northwest of Holmesville. 
Gage County Sheriff's investigators say a 17-year-old male who was an occupant of the vehicle was among two people ejected and died at the scene. The other occupant, identified as 18-year-old Billy O'Keefe Jr. of Wymore, was taken to Bryan West Hospital in Lincoln for treatment of suspected serious injuries. 
Sheriff's investigators say the two were in a 2003 Ford Mustang they say was traveling at a high rate of speed when it left the roadway, rolling over.  Seatbelts were not in use, and law officers say the car's airbags deployed. 
Gage County Sheriff Millard Gustafson said it was not clear how fast the vehicle was traveling when it left the roadway.  The car was traveling southbound at a sharp curve when it went off the south side of South 36th Road.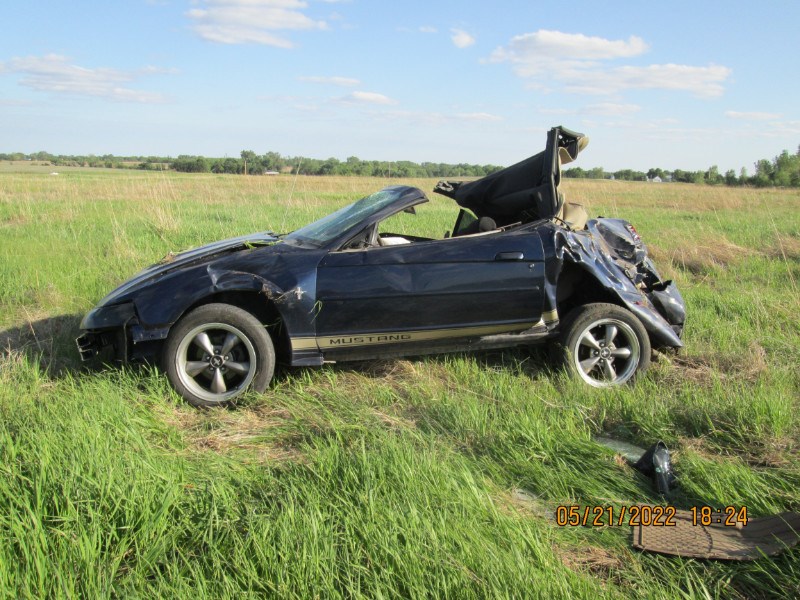 Sheriff's investigators have not released the identity of the person killed and have not yet said who was driving the vehicle.   The male victim had just graduated May 14th with the Southern High School Class of 2022 in Wymore.  Southern High School Principal Jeff Murphy says although students are not in class, the district was making counselors available Monday for students through a school agreement with Educational Service Unit Number Five.  
A makeshift memorial had been set up at the accident scene, over the weekend.
Beatrice Fire and Rescue units were sent to the scene just before 6 p.m., Saturday. Authorities had called for a medical helicopter.   The nearest available was flying out of Columbus, but was later waved off because of the longer flight, and transport by ground was faster.