News
Kansas State University students present ideas, for elementary schools, vacant spaces
Kansas State University students in architecture, planning present their research on property use, during open house
Friday, November 4th 2022, 7:25 AM CDT
BEATRICE – Students in Architecture and Planning at Kansas State University have been working with Beatrice Public School officials to find a new use for elementary buildings that will be replaced by a single site school.

The effort that began this summer has morphed into a wider look at solutions for the Dempster Plant property and vacant downtown areas, including a huge downtown parking garage.  The students and their professors attended an open house Thursday night displaying the work that has been done so far. KSU Associate Professor of Landscape Architecture and Regional and Community Planning, Blake Belanger talked about the origin of the effort.

"Altogether there are 36 students. One group is a group of mid-level architecture students and they are the group that looked at the five school sites. The other group of 18 students taught by (Susmita) was in a class called urban design and seminar....and they're looking at the Dempster site and the downtown."

Assistant Professor in Landscape Architecture and Regional and Community Planning Dr. Susmita Rishi says for students, it gives them an opportunity for experience in a field that will become a career.  "They're getting a Masters in planning or they're getting minor in community planning. So somewhere or another, they're going to be all involved in planning and design of cities."

With the elementary school building sites, students have worked to identify a possible use that would fit with the neighborhood area in which they are located. Whether schools or downtown structures, the professors say each location may carry a different potential use. Dr. Rishi said, "For example the parking garage...something has to be done about it, because its in the right-of-way. But, it's also in a National Register of Historic Buildings (area). Similarly, with Dempster, you can't really put anything on there where there is habitation. But, you don't just want to make a park. You want to do something. There were various constraints with each site. I think the students learned a lot from the panel when they were here, last time. And, they used some of those ideas to expand and figure out, what all could happen."

With a housing shortage being experienced by many Nebraska communities, Belanger said several of the elementary sites are suitable to help meet that need.
"Not every one of the school sites is being proposed by our students for residential, but some of them. The price point for that housing is based upon the community. We did a lot of research early in the semester on the price of housing, to fit within the income levels of the community. Some of the proposed ideas are row houses, like townhouses...but closer to the street...as well as duplexes. These are single-family residences that are at a price-point that people can more easily afford."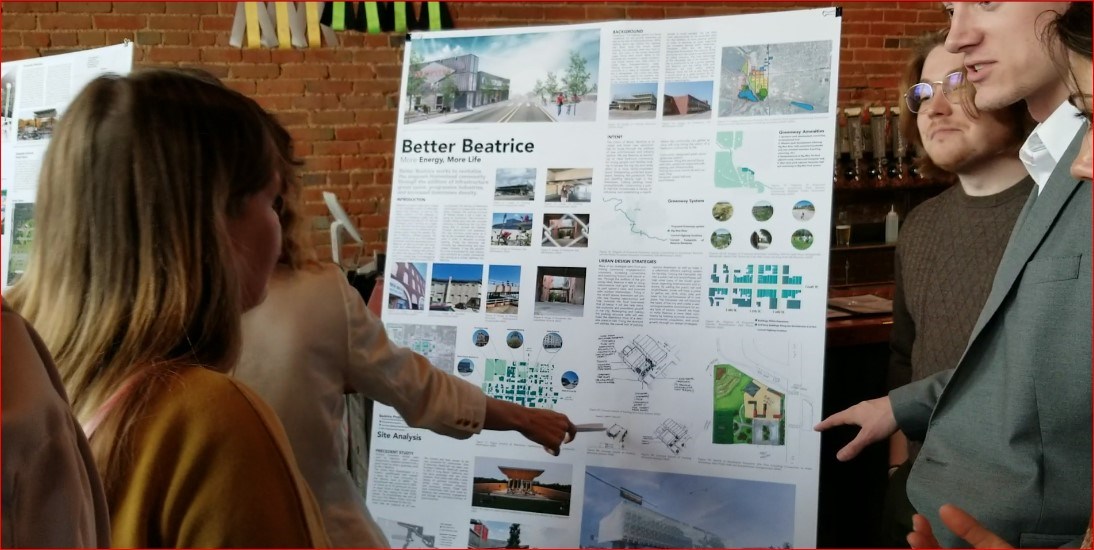 The student proposals suggest housing at the Lincoln, Stoddard and Preschool building sites. Belanger said at the preschool site, one suggestion is housing that would be suitable for students at Southeast Community College. Another issue students dealt with is how to attract young people to a downtown area, including greater second-story utilization of buildings.

So what's next? Belanger says it is putting the research and design proposals online….allowing more people access to them.  "That should be up and ready by mid-December. And then the next step is really the community starts to prioritize what's most important...and also the school district ...to identify what the best re-use potential is, based upon the needs of the community."

Rishi and Belanger said it was exciting to see the turnout at Thursday night's open house at the Stone Hollow Brewery. Belanger says it gives students a chance to see the impact of their effort.

"Students tend to get really motivated when they feel like they can make a difference. They've been working really hard this semester and its really exciting for them to be able to work with members of the community and hopefully have an impact on the quality of their lives."

The architecture and planning students participating are about midway through their field of study, at K-State.