News
Beatrice School Board Finalizes New District 15 Budget
New budget for Beatrice School District 15
BEATRICE – The Beatrice Board of Education has approved a new district budget, of nearly $31.13 million. The district's total tax rate will be $1.08 cents per hundred dollars of property valuation… a marginal increase from the past year. The general fund tax rate is about $1.0357. The district's building fund rate will be 1.4 cents, down from the past years' 1.6 cents. This is the second year of no bond fund within District 15. The total property tax requirement is about $12.89 million…a half-a-percent increase.

Superintendent Jason Alexander says the overall spending plan is 2.16% lower than the past year…when he says the district did not spend all it was authorized to do. The district underspent the budget by nearly $200,000.

The superintendent credits district staff with looking for ways to reduce costs. Alexander says districts have a difficult time controlling when revenue comes in…whether its property tax collection or federal, state and local funding. That's especially true with property tax collection.

One positive part of budgeting this year is that the district will receive increased state aid, totaling just over $6 million.
Over a five-year previous period, the district saw a more than $7.6 million loss in state aid.

Alexander said enrollment in the district remains static. He says the district will likely always stay at a total of about two-thousand students, district-wide.

Going into the new budget year, the Beatrice Public School District has an estimated beginning balance of about $7.6 million. Total property valuation in the district was up about 1.76%, totaling over $1.24 billion.

The Beatrice School Board held short public hearings on the budget and tax rate, prior to approving both during their regular session, Monday night.
Board members also voted to allocate $5,000 toward repair and resurfacing of Hannibal Park tennis courts. The project planned by the City of Beatrice is expected to cost about $35,000. BHS boys and girls' tennis teams use the courts for practice and high school competition.

The District 15 board now has a new student representative for this year. Senior Zack Zimmerman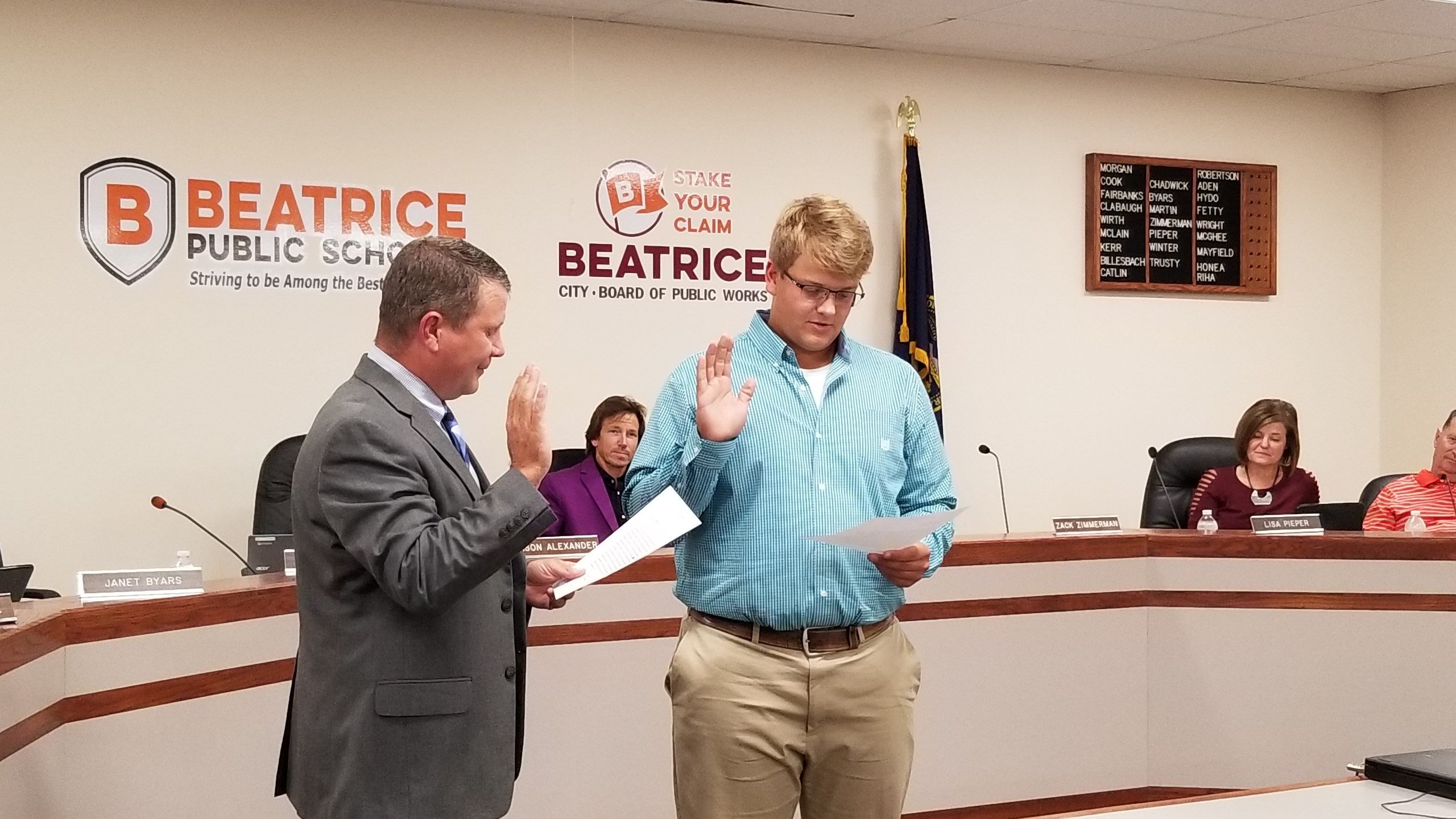 was sworn in as the non-voting student member of the board.